SHOWS
Original stories, songs, and silliness performed by the Wump Mucket Puppets.
Our kid-pleasing shows are presented as a rollicking variety show, with our puppet cast singing catchy tunes, telling silly jokes and riddles, and performing a captivating story or two!  Every performance begins with a warm-up introduction with puppeteer Terrence Burke, and ends with a meet & greet session with our stars!
NOW TOURING SUMMER 2018
Western themed fun with Jacqui the Jackalope along with cowpokes Coleman and Reg, and more of our puppet cast.  The show is sure to get the audience hootin' and hollerin' with original songs and silliness, even a dance break!  Featured stories include:
The Cow Who Wouldn't MOO! – A tale of two cowpokes Coleman and Reg, and their stubborn cow.  Coleman wants to be a champion wrangler.  Reg wants to move to California (He's heard the streets are paved with gold), and their cow doesn't want to do moo!
Tall Texas Tale – Miss Jacqui tells the story of  The Biscuits That Covered Bucket Gulch – about a crafty stranger who has the recipe for the world's best biscuit, or does he?
The show includes a visit to a possible gold mine with Unka Unka the caveman.  Plus more silly western themed fun!
For children ages 3-10 and their families.  Run-time approximately 30 minutes. 
Click HERE to watch our interview on Local 12 WKRC TV
---
Available for Spring and Autumn 2018 booking: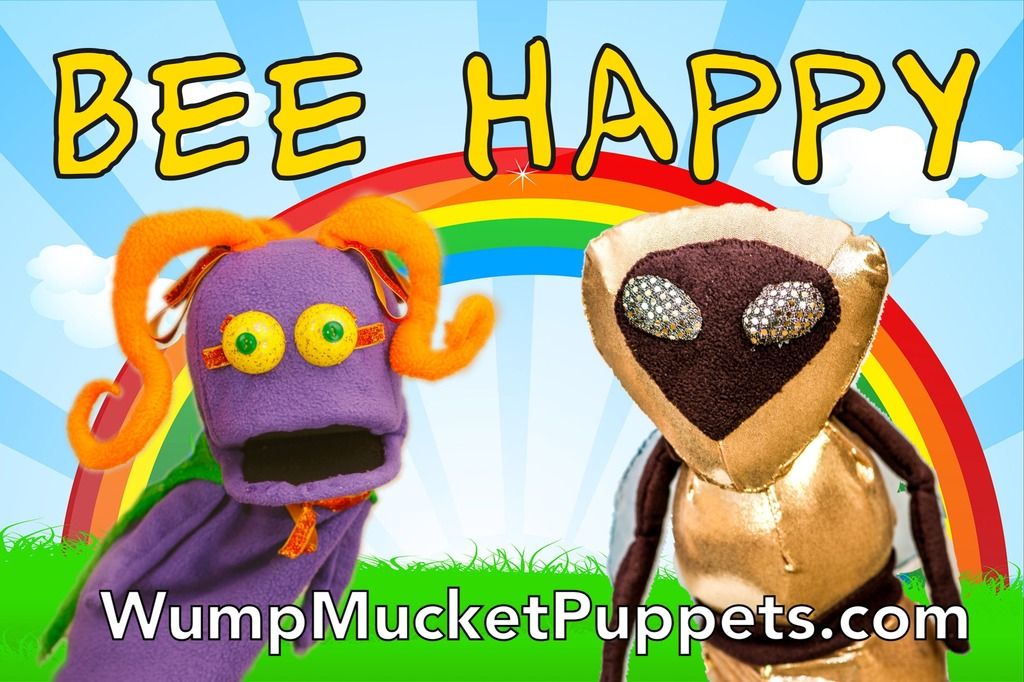 This lively performance features two fun puppet stories that promote keeping our world cleaner and and learning more about the world of bees.  We are sure that our young audience members will be BUZZING about this show.  

Bee Happy – Features our puppet star Super Space Princess G'Wizzl visiting The Queen Bee, to learn how bees help us, and how we can help them.  This story will get kids up and dancing to a bee dance!
Coleman's Green Team – Has our popular furry friend Coleman the Sasquatch sharing simple things that the friendly puppet Witch Willie (and our young audience) can do to "be Green" by not being a litterbug, and take better care of our world.
The show is rounded out with our co-hosts Cyril and Coleman's silliness, as well as some fun with Unka Unka the caveman planting a flower garden on the puppet stage!
For children ages 3-10 and their families.  Run-time approximately 30 minutes.
Enjoy our guest appearance of WCPO to see two of the show's stars WATCH HERE
---
This show is on hiatis until 2019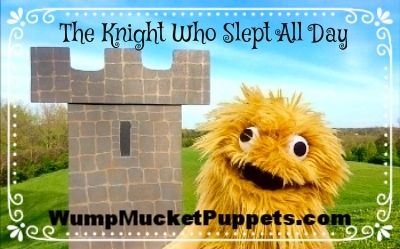 The Knight Who Slept All Day tells the story of a young knight, played by Coleman the Sasquatch, who is sent on a quest by Queen Jacqui to stop The Beast who lurks in the Cereal Mines.  This tale promotes peacefully resolving a problem through cooperation.
The show opens with The Great Puppet Race story , where four puppet racers visit the sunken ruins of Atlantis, a mountaintop, a peaceful frog pond, even outer space to find word clues that share the magnificent message "Reading Makes Everyone Winners".  Perfect for library programs or early literacy curriculum.
Included in this popular show, is Unka Unka's visit to a beach to build a sand castle, and try to eat a squeaky hotdog.  Guaranteed to have the kids laughing at his silly antics!
For children ages 3-10 and their families.  Run-time approximately 30 minutes.
Enjoy our TV guest segment on FOX19 to see more about this show  WATCH HERE
Available for October 2018 booking:
The Kooky Spooky Halloween Show
30 minutes of SPOOK-tacular Halloween puppet fun hosted by Gourdon the Pumpkin Man to celebrate Halloween, pumpkins, in a friendly, not scary manner.  
The featured story is The Ghost Who Couldn't Say BOO! starring Witch Willie and Morty the Ghost, and tells the silly (not scary) tale of a ghost who has trouble scaring people at Halloween.  This tale explains that sometimes we are not what others expect us to be, and to be ourselves.
Opening this show, Cyril the Sea Serpent plays game show host during our make-believe game show parody "Goofy Gourmet", with our puppets cooking up crazy Halloween concoctions!
Included in this show is Unka Unka the caveman's attempt at trick-or-treating, and being confused for a child wearing a caveman costume.
This show is appropriate for children ages 3-10, and is popular with grandparents too!  Run-time approximately 30 minutes.
Watch Witch Willie on live TV  with Bob Herzog on Local 12   WATCH HERE
 Available for December 2018 bookings:
Frozen Follies
Celebrate the season with our puppet stars, including includes holiday themed songs, silliness, even a sing-a-long!
Our holiday show features these stories:
The Great Marshmallow Harvest,  where Coleman and his family "discover"marshmallows growing on their farm one day in December, and figure out how to share this remarkable new crop.
The Many Names of Santa Claus, alien princess G'Wizzl learns what several different cultures call this jolly Christmas visitor and includes a very special guest, Santa Claus himself!
The show includes holiday themed fun with Unka Unka learning about winter safety, plus more silliness, even a sing-a-long!
Appropriate for children ages 3-10.  Run-time approximately 30 minutes.