Contact Wump Mucket Puppets to book at show or learn more about our puppet troupe.  Call or text puppeteer Terrence Burke at (513) 370-9803

If you are seeking information to book the Wump Mucket Puppets for your event, we will need the following information from you:
Date and showtime of the event that you would like us to perform at.

Location of the event (Street address, City, State)

Will this be a public event (school, library, special event) or private function  (party, corporate event)

Your name and phone numbers that we can reach you at.
Our live puppet performance includes:
A Warm-up introduction by puppeteer Terrence Burke!

Our 30-35 minute kid-pleasing puppet show featuring our handcrafted puppet stars!

A Meet & Greet with the puppets and their puppeteer!

Or a Q & A session with the puppets and their puppeteer!
For an hour of live family friendly FUN!
We carry liability insurance through Specialty Insurance Agency, and are happy to provide a copy of our certificate upon request.  Coverage underwritten by Evanston Insurance Company; a carrier rated A (excellent)
Please read what our clients and audience have said about Wump Mucket Puppets:
READ what our CLIENTS are saying
LETTERS of Reference from clients
PERFORMANCE FEE
We are happy to provide you with our performance fee after we receive your information.  
Multiple show bookings may qualify for a discount.  We are happy to provide you with a quote.
Travel fees may apply to shows booked outside of the greater Cincinnati area.  Please contact us for more details.   A $50 deposit may be requested at time of booking private performances.

Please fill out this form to book a show:

Puppet Show Stage Requirements:
The show's stage requires the performance area height minimum of 7' and a preferred performance area of 5'D X 7' W.  Our portable puppet stage height is 7'.   We are happy to try and work with rooms of all shapes and sizes.  We will provide a technical rider at the time of booking.

Please click below to view our stage plot:
We require 1 hour load-in/set-up, and about 45 minutes to strike and load-out.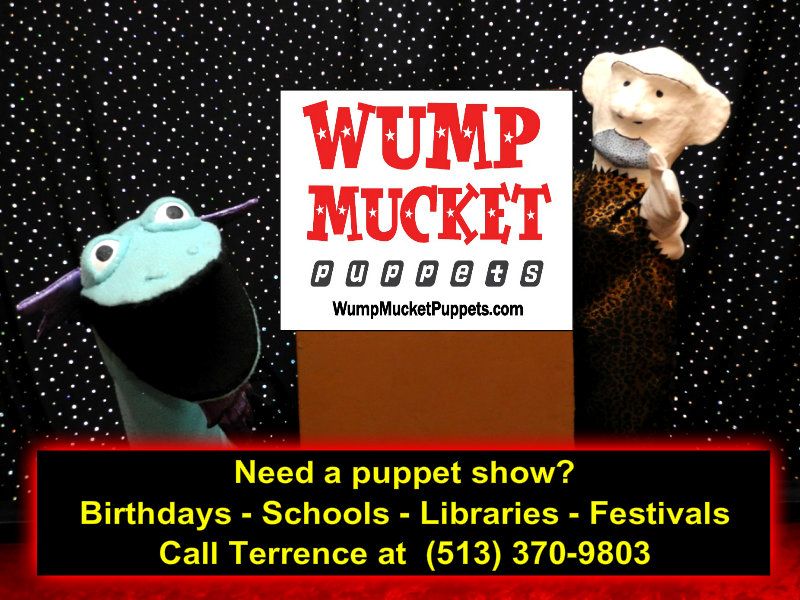 Thank you for your interest.  We look forward to speaking with you!