The Show
The original skits, songs, and silliness performed by the Wump Mucket Puppets.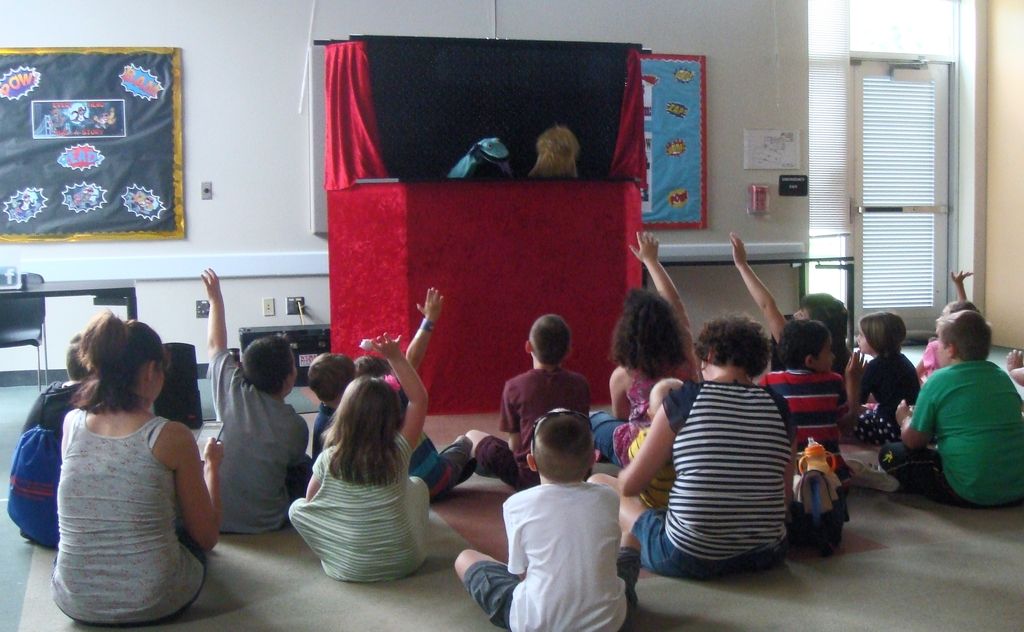 Our kid-pleasing performance is presented as a rollicking variety show, with our puppet stars singing catchy tunes, telling silly jokes & riddles, and performing a captivating skit or two!

The Skits
Here are the skits that we have brought to our puppet stage over the years:
Lil Red Sasquatch Hood starring Coleman, Cyril, and G'Wazzl
Purply Locks and the Three Squatches starring Coleman and Cyril
The Elvis and the Shoemaker starring Unka Unka and Cyril

Billy the Christmas Moose –

A holiday tale told by Cyril

The Legend of the Loveland Frog Prince starring Coleman and Reg

Super Space Princess and the Pirates from Zwonk

starring G'Wizzl

The Great Marshmallow Harvest starring Jacqui and Coleman
The Great Puppet Race starring many members of our cast
The Knight who Slept All Day starring Jacqui, Coleman, and Cyril
The Ghost Who Couldn't Say BOO! starring Morty and Witch Willie
NEW FOR SUMMER 2017: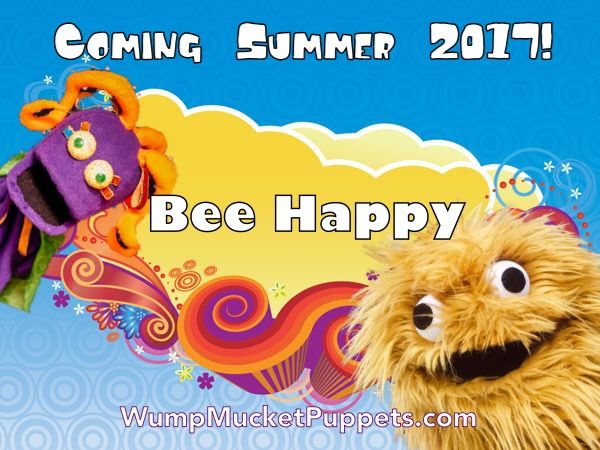 This lively 30 minute performance features two new puppet skits that compliment the 2017 Collaborative Summer Library Program theme "Build a Better World", yet can be enjoyed by all audiences.  We are sure that our young audience members will be BUZZING about this all Summer.

Bee Happy – Features our puppet stars Coleman the Sasquatch and Space Princess G'Wizzl visiting The Queen Bee, to learn how bees help us, and how we can help them.

Coleman's Green Team – Has our popular furry friend Coleman sharing simple things that our friendly new character Witch Willie (and our young audience) can do to "be Green" by helping recycle, not be a litterbug, and taking care of our world.
---
The Songs
Our show features original tunes that parents have told us that they have heard their children singing at home!  Here are the titles and themes of our songs:
Hello Song – Cyril greets the audience

Puppets Are Popping Up – Coleman and Cyril's theme tune

We Love our Library – Cyril expresses his fondness for libraries

Cryptozoology – Cyril sings about strange hidden creatures

Bitter About Litter – Coleman's tune to help stop littering

Things That I Dream – Coleman's whimsical tune about dreaming

What is a UFO? – G'Wazzl and Coleman ponder UFOs

Summer in Cincinnati – Cyril and Coleman's do-wop tune

Pluto's Song – Coleman and G'Wazzl's ode to the planet Pluto

Please & Thank You – Cyril and Coleman's duet about manners

Father's Day – Coleman sings about Fathers

Christmas Time in Cincinnati – Cyril and Coleman's holiday tune

The Schnecken Song – Coleman sings about this lovely pastry

Springtime for Sasquatch – Coleman's tribute to Spring

Unka's Theme – To introduce our silly caveman

Princess Superhero – G'Wizzl wishes for super powers


Why Do Pirates Say ARGH? – Unka sings this silly space pirate tune

Goodbye Song – Cyril and Coleman sing goodbye to everyone
All songs  © 2010-2017 Terrence J. Burke
---
The Silliness
Wump Mucket Puppets are a puppet troupe that's SILLY with a capital S! 
Whether it's Coleman's love for odd food combinations (such as macaroni & toothpaste salad), G'Wazzl's peculiar space alien observations of life on Earth (Don't eat baseballs!) or Unka Unka's inability to catch a pesky little rock, our puppet cast will keep you laughing.