Summer 2016 is here!
Our summer touring season is off to a great start with an amazing week of shows, two live television appearances, a radio interview, and a FULL PAGE newspaper article!
Here's a recap of the last week:
June 3, 2016 – Wump Mucket Puppets made their third guest appearance on WCPO TV.  Anchor Chris Riva was great to chat with.  Thanks to all our pals at WCPO for helping me promote the short film "A Show of Hands".

Behind the scenes:  This was Jacqui the Jackalope's television debut.  Minutes before stepping in front of the cameras, her left antler popped off.  I tried to get it to stay on her head with a bit of Scotch tape…  which didn't work very well.  Watch it wobble on live TV for thousands of viewers:

June 5, 2016 – Wump Mucket Puppets are on the radio!   WVXU has been a great supporter of our little puppet troupe, here's our latest interview on the Around Cincinnati program:  CLICK HERE TO LISTEN
Behind the scenes:  This radio interview was recorded in early May, and broadcast on June 5th. 
June 6, 2016 – Our media parade continued into print with our very first feature article in the Cincinnati Enquirer written by Garin Pirnia.

A link to read this article will be posted soon.  Thank you to Garin for the help in promoting the screening of "A Show of Hands" and for telling the story of my journey as a puppeteer.
June 7, 2016 – All of the media attention would be for nothing if there wasn't something to promote, and boy did we have that covered.   Our first library show of the season was at the Carroll County Public Library, where the puppets were welcomed by many smiling, laughing children and their parents.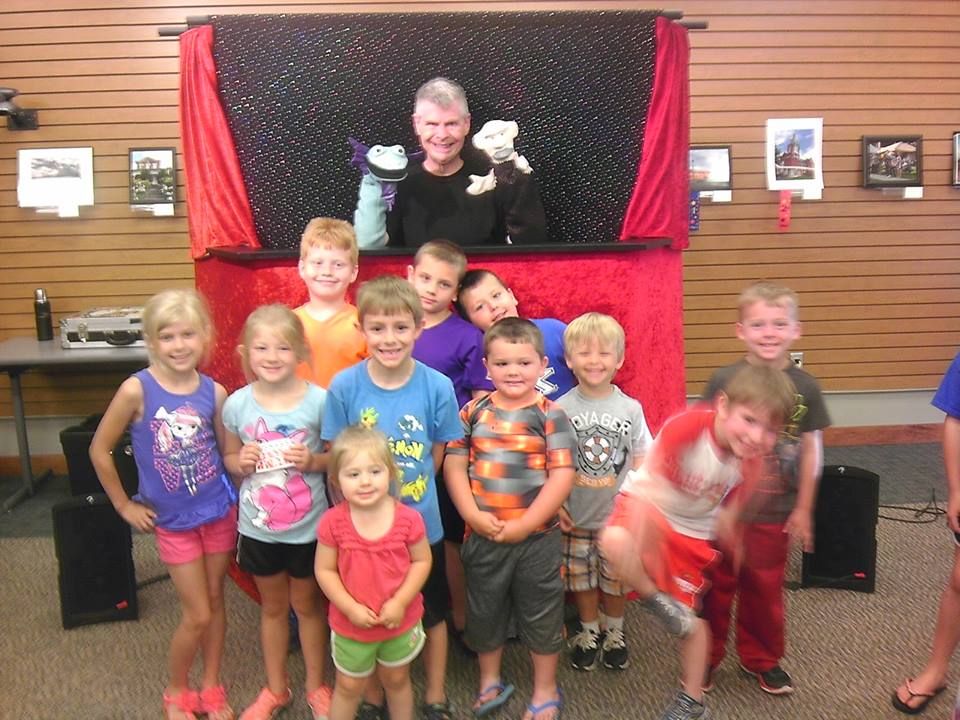 Our silly caveman Unka Unka won the hearts of the audience with his crazy attempt to build a sand castle.  He was such a hit, that many children were heard imitating him in the library after the show!  "Unka say Shhhh".  Here's a photo of Unka Unka meeting a new fan after the show.

When our show was finished, I packed up to drive back to Cincinnati and prepare for the Cincinnati premiere of the short documentary film "A Show of Hands".  The film screening was attended by family, friends, and fans at the Northside branch library.  Here's a fantastic drawing that author/illustrator Mark Neeley drew to celebrate the screening:



Following the film, our audience was treated to pizza donated by our favorite Northside pizza shop, N.Y.P.D. Pizza.  We then held a questions and answers session with myself and the film's director Sean W. Mangan.  Puppeteer friend Linda Mason took this photo from the audience that includes Terrence Burke, Coleman the Sasquatch, Tiernan Burke, and Sean W. Mangan: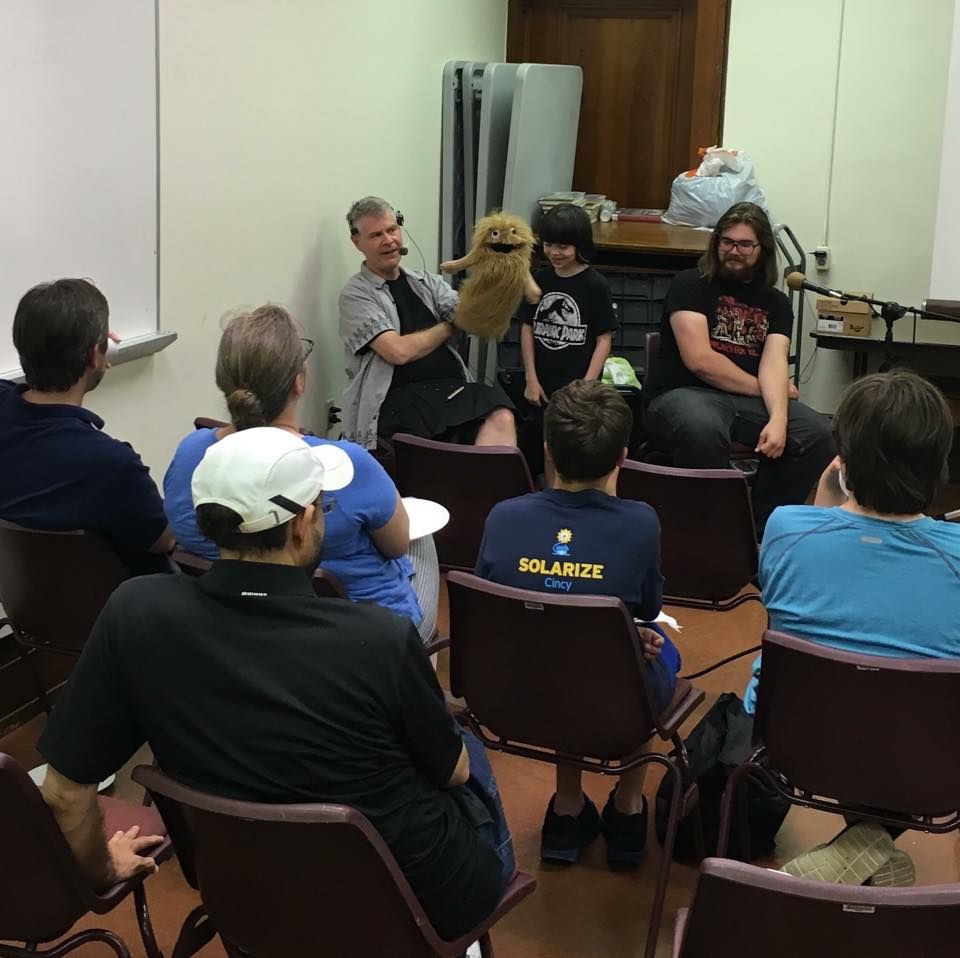 June 8, 2016 – Wednesday morning it was back to a TV studio for Coleman and Jacqui, as we made another live television appearance on WXIX FOX 19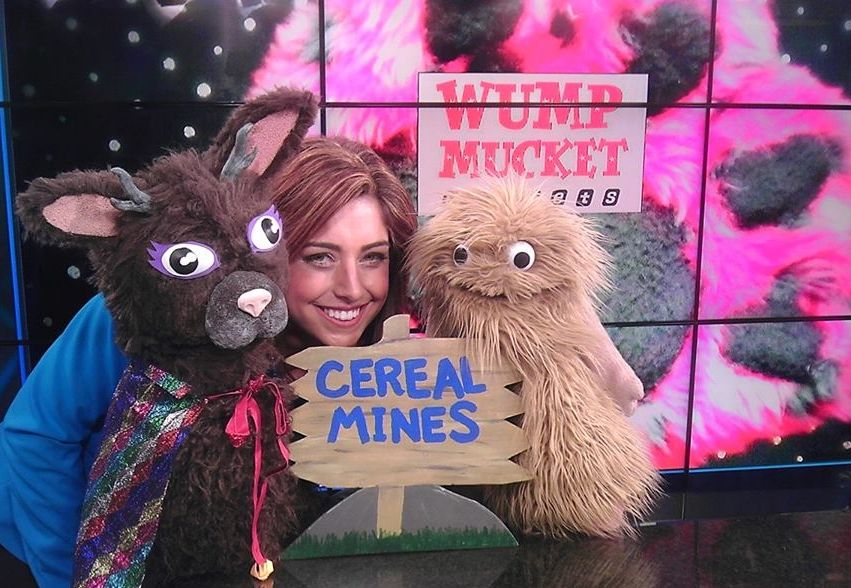 FOX 19 holds a special place in my heart, as they were the very first television station to invite me on as a guest years ago.  The producers and anchors have always been helpful and as you can see in this fun segment with Catherine Bodak, love our puppet characters:

June 9, 2016 –  With the media appearances completed (until next month!) it was back on the road for our mighty little puppet troupe.  Thursday we made our debut at the Gallatin County Public Library in Warsaw, Kentucky.   The audience was fantastic and loved our silliness!
Behind the scenes:  As I began to pack up the puppets after the show, a young boy and his mother approached me.  Apparently the mom had mixed up the showtime, and her son really wanted to see us.  Well, this young man didn't go home disappointed…   Cyril and Coleman sang our theme tune for him, cracked a few corny jokes, and then took him on a backstage tour!  They also made sure he had coloring pages, a couple stickers, AND an autographed postcard to take home!
June 10, 2016 – We love meeting new pals, and the state of Kentucky appears to be full of new Wump Mucket Puppets fans!  On Friday we returned to Carroll County to perform for a very lively audience at the Sanders Baptist Church in Sanders, KY.   One of our new fans was so impressed with the show that she wrote a quick review directly after the performance:


The note reads "Good job"  Coleman really appreciated the note, and enjoyed meeting his new pals after the show.
With the first week  of shows completed, I look forward to entertaining and meeting even more new pals on our travels as the Wump Mucket Puppets rock Summer 2016!