"A Show of Hands" documentary news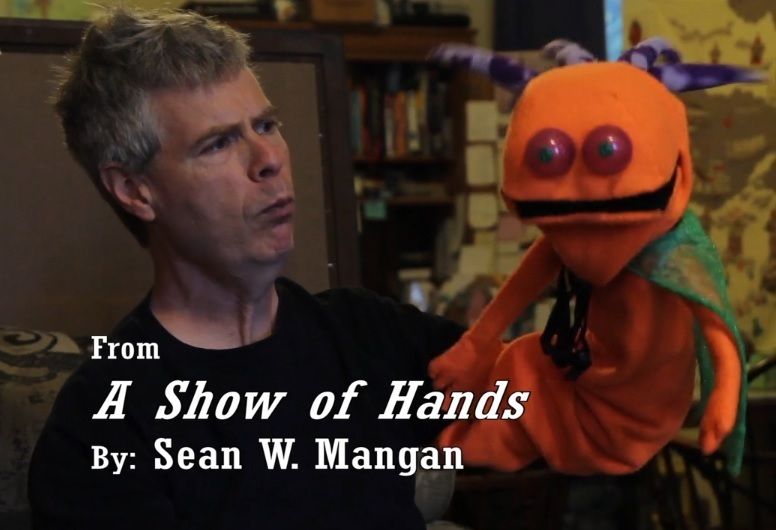 For those pals who do not follow our adventures on Facebook (please LIKE us) I will recap what's been happening with the documentary film that has been made about me:
In late September of 2015 I was contacted by Wright State University film student Sean W. Mangan.  He was interested in making a short film about me, my puppetry, and how it all came to be.  We chatted on the phone, exchanged a few emails, and eventually set-up a schedule to shoot the film.  Over the course of five days in October, Sean interviewed me at home,  shot some footage of my family, and a couple of my puppet shows performed in Kentucky and Indiana.
During the holiday season Sean edited all of his footage into a 10 minute documentary short and gave it the title "A Show of Hands".  Then it was ready to watch!  On February 12, 2016 I attended the screening at Wright State University's 16th Annual Doc Night with students, faculty, alumni, and families of the filmmakers.  I am very pleased to say that Sean has captured my story on film in a very honest and heartfelt manner, and believe that others will enjoy it too.
What's next?  We are trying to juggle our busy schedules and present the film to the public with a screening at the Northside library, where my professional puppetry career began, followed by a Q & A session with Sean and myself, perhaps a puppet or two.  I thank everyone for their interest and patience as we work towards a Cincinnati premier date.  For my out of town family and friends, the film will eventually be available to view online.
Thanks again for all your interest, support, and love over the years.  I think you too will enjoy "A Show of Hands".  Puppets ROCK!