Notes from the Road June 2015 – Chapter 2
Summertime is puppet time!  Here are a collection of thoughts, observations, and special moments in my adventures over the Summer of 2015 as a touring puppeteer.  Here are my notes from the road for June 2015 – Chapter 2…
June 5, 2015 Friday
I finally have a workbench to build props, puppets, and more!  Yippee!!!  Over the past 14 years we have used our kitchen and dining room tables as our workspace.  Messier projects, such as paper maché or painting, were done in our backyard or front porch.  It was a bother to lug things in and about our house. 
The workbench proved to be a small pain in the back, after a few hours of "assembly fun", I needed to leave it alone.  I took Eleanor's wise suggestion to call it a night to finish it in the morning with a fresh pot of coffee.
Now that we have a place to store our ever growing collection of tools, I know that we can build props and puppets much faster.  Tiernan is very excited about the new workspace too!  He wants to help me build a robot puppet, which Eleanor suggested years ago.  I would like to use L.E.D.s for the robot's "mouth", which will be triggered by the puppeteer when it speaks via a pistol grip.  I am sure this was inspire by the robot from the "Lost in Space" TV show that I watched as a boy.  Can you believe that I was afraid of the monsters on that show?!  "Danger! Will Robinson! Danger!"  Here are a few YouTube video clips of B-9 the Robot to enjoy.
Lara suggested that we also make space for a paper maché and painting area near the workbench to keep the messy art in the basement.  This is a GREAT idea!
June 7, 2015 Sunday
No shows – Um Um song idea
The phone interview that I gave to the Chillicothe Gazette on Friday ran today.  It's great to have media attention to help promote our puppet shows.  Here is a link to the interview:  Chillicothe Gazette interview with Terrence Burke
While helping my children brush their teeth before bedtime, I came up with a jingle idea for a silly "product" that the puppets could pitch in the show:  "Um Um Gum Gum!  It's Yum Yum for your Tongue Tongue!"  Now I only have to remember the melody.
June 9, 2015 Tuesday
Performed at Campbell County Public Library Newport KY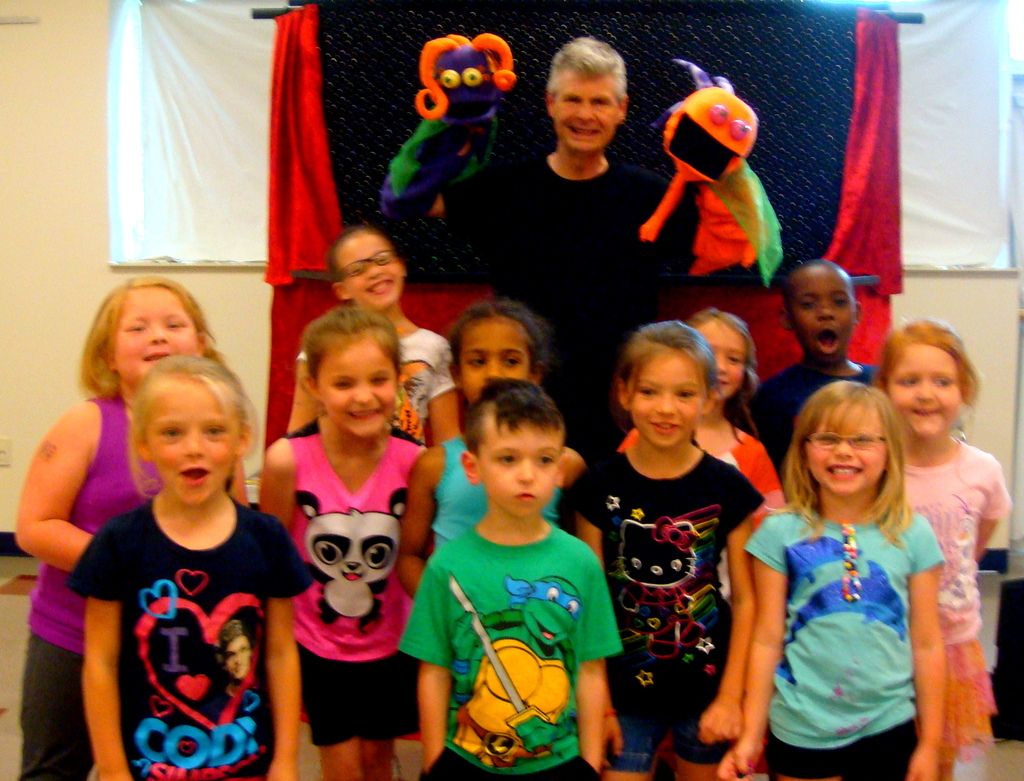 Our first library show of the Summer was a HUGE hit!!!  Around 67 children attended, with about 30-40 adults filled the Newport library's meeting room.  Our host, librarian Miss Joanie was very friendly and really into puppets!  She even wore dinosaur slippers!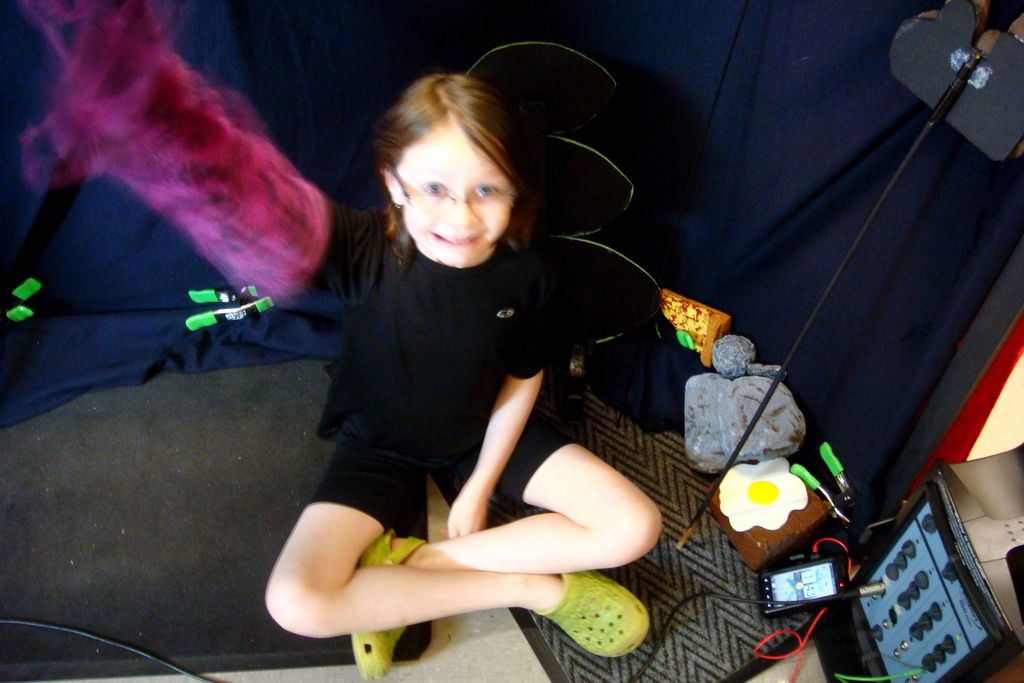 Eleanor helped out today, and as usual, got BIG laughs from the kids while performing the Little Rock with Unka Unka the caveman.
G'Wizzl is quickly becoming the star of our Summer shows.  Unka is "finding" his pirate voice, so his puppeteer (me) doesn't lose his voice -ARGH!
The new props, pirate asteroid rocket ship and potatoes, are holding up well.  We need another truck to carry them around in as they are carted all over the place.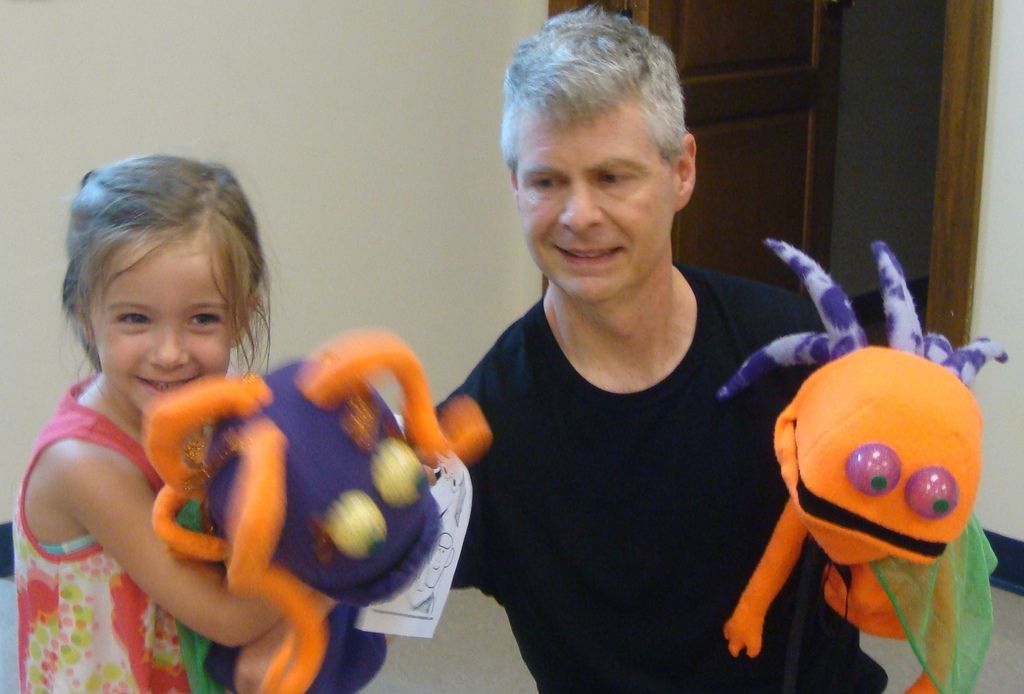 Today's post-show meet & greet was FAB!  We took lots of photos with our new fans, gave our a few buttons, and many coloring pages.  The little girls LOVE G'Wizzl, and wanted to hug her.  I am very pleased with this puppet.  Lara did am amazing job building her from my doodles.  We make quite a team.
Our time in Newport ended with meeting a boy named Jack and his father.  When I asked him what his favorite part of the show was, he replied, "Well, the whole show was AWESOME!"  Jack went home with a Wump Mucket Puppets' fan club button and a few stickers that he said he will put on his "big boy bike".  Jack knows that Wump Mucket Puppets ROCK!