Puppet Rockin' in the Queen City Day 5
November 12, 2014 – At last, our schedules and weather synchronized to allow the cast and crew an afternoon to shoot the fifth and final PSA for the City of Cincinnati Department of Public Services.  Had we really been working on these for a little over a month?  Somehow the entire production seemed to fly by!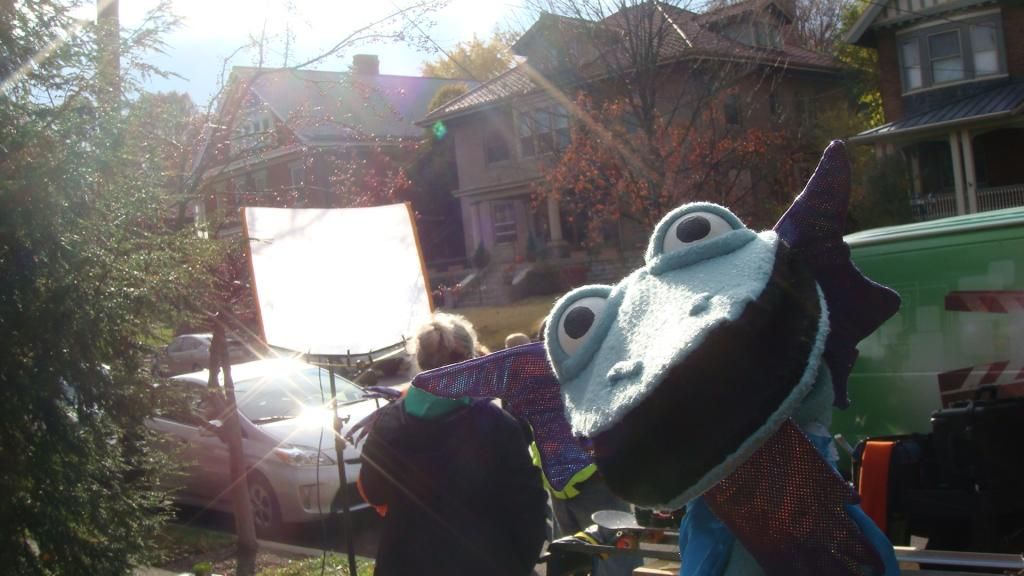 For the final shoot we found ourselves in the Clifton neighborhood of Cincinnati.  It was a quick commute from the Wump Mucket Puppets headquarters in Northside.  The puppets cast in this spot were Cyril and his alien buddy G'Wazzl.   How was I going to have two of my puppets in a scene?  This was made possible with lots of help from Amanda Checco and Beth Dickerson, who "puppet wrangled" G'Wazzl in the background while I performed Cyril.  I think they had fun, just look at their smiles!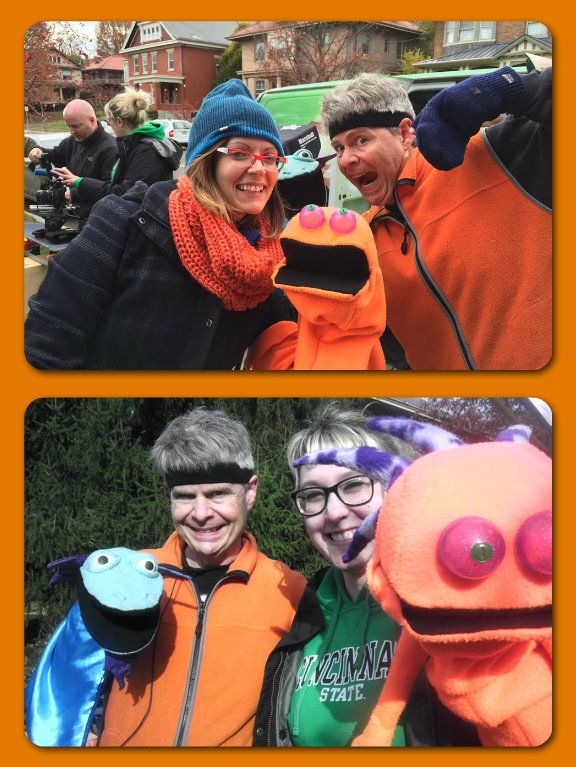 In the PSA Cyril meets his neighbor Mark Bertram, who has just discovered that someone left their UFO in his trash pile along the curb.  Mark and Cyril then explain to the viewers how to have their waste picked up, even alien spacecraft!  There will be a surprise ending that you will have to wait for.  I promise you this, it's OUT OF THIS WORLD!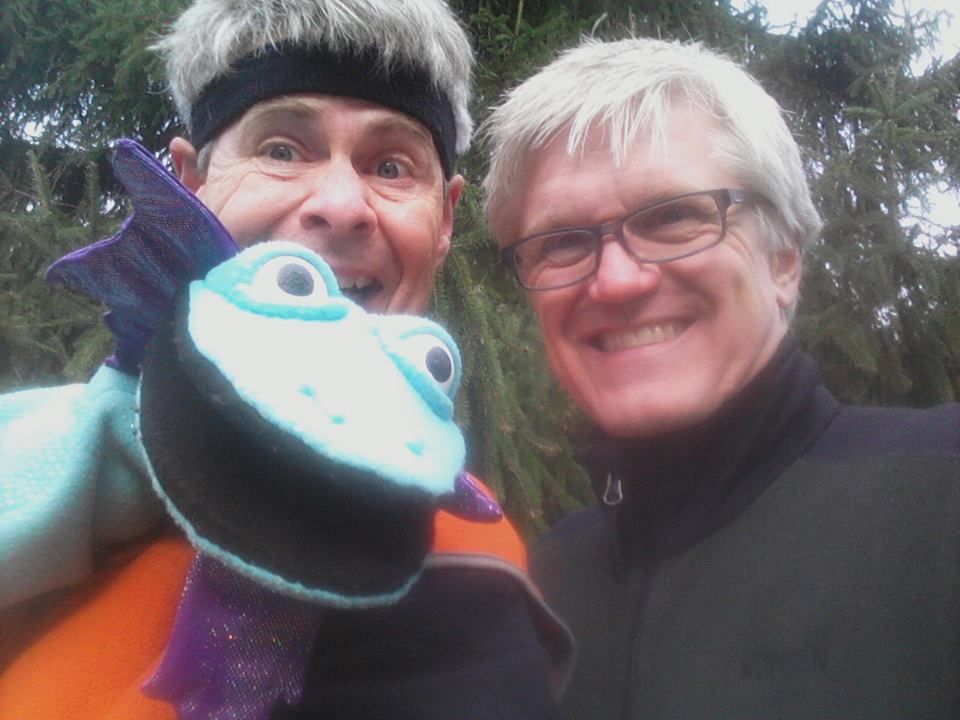 After shooting the scene featuring Mark and Cyril, I had to switch puppets and perform G'Wazzl to deliver his lines.  I was really impressed with the UFO prop that was made for this production, even G'Waz wanted to take it for a spin around the block.  And then, with the shout "that's a wrap!", we were finished.  The Wump Mucket Puppets are soon to be that puppet stars of five different television PSAs for the City of Cincinnati's Department of Public Services.

What started as an email from Gerald Checco back in July will soon deliver important messages, in a fun way, to the citizens of our city.  It was a fantastic experience for me.  Thanks to:  Gerald Checco, for reconnecting with me (we were on the radio together in back the 1980s) and for choosing my puppets to share his department's messages.  Ann Newsom, for her kind words of encouragement and use of her blanket while puppeteering on the sidewalk.  Paul Grundy, for keeping this entire production team together, while schedules and weather had other plans.  Bobby Gayol, who's laughter to my puppet's silliness only made me want to be sillier. I also enjoyed our chit-chat about Cincinnati rock scene from years ago.  Zo Wesson, a great fan of puppetry who knew what to ask the puppets to do, and inspired their puppeteer to rock even harder.  Beth Dickerson, for being such a kind wrangler of G'Wazzl and very helpful during the recording of our voice-overs.  Anastasia, Cory (I apologize for not remembering your last names), for helping Cyril get his cape on and for helping me take my mic off.  Of course we must give shout outs to all our co-stars; John Ervin, Markeesha, Ed Grant, Ann, Marcus Potter, Mayor John Cranley, and Mark Bertram!  You were fantastic!
So what's next?  Paul Grundy has told me that once the five PSAs are edited and approved, we may be presenting them at a Cincinnati city council meeting in early 2015!  I wonder if I can convince Coleman to wear his tuxedo? 
Eventually the PSAs will be provided to Cincinnati television stations and social media, to help inform the public about the new rules and changes to trash collection in Cincinnati.  I had a great time working with everyone involved with this production, and hope that you had fun working with me and my cast of zany puppet characters too.  It is my dream that the Wump Mucket Puppets will be cast in future television productions or advertisements, after all…puppets ROCK!