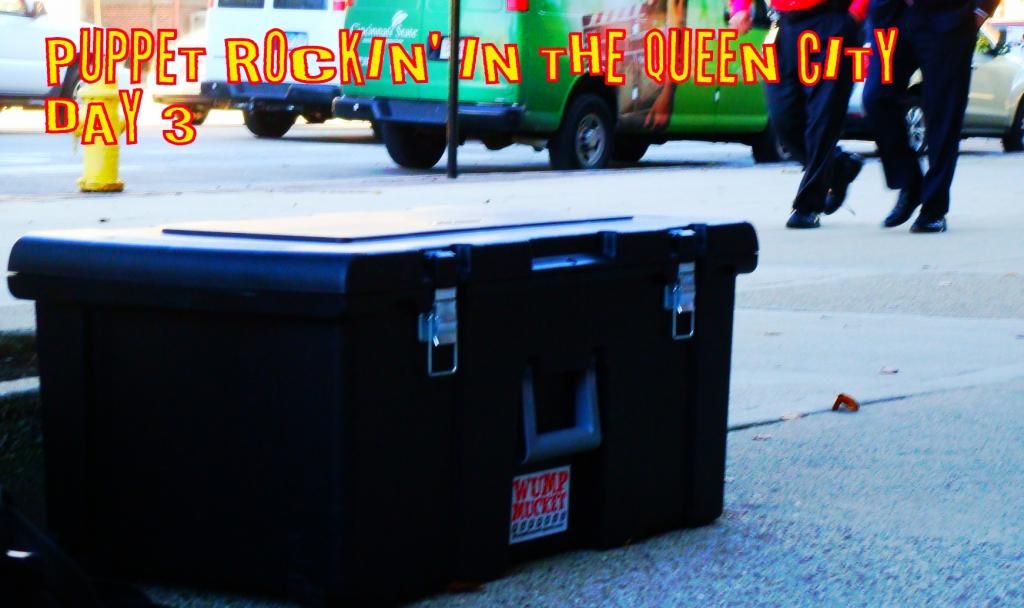 Puppet Rockin' in the Queen City Day 3
Friday, October 24 2014  The third day of our production was chosen to work into the schedule of our VIP.  None other than the Mayor of Cincinnati, John Cranley!  He's a very busy man, and we were grateful to have thirty minutes of his time to include him in the video.  When our crew got the call that Mayor Cranley would be available, I was informed that the shoot at City Hall was a go!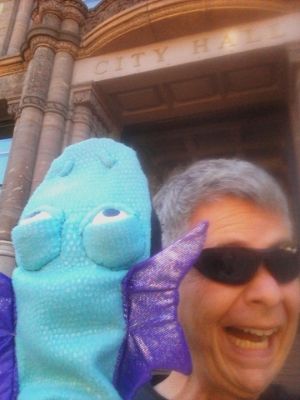 I have met my share of famous people in my years in the radio/music biz, yet this was my first time meeting and performing for television with a mayor.  I have to admit, I was a wee bit nervous before the cameras started to roll.  Being the prepared puppeteer that I am, I brought a Wump Mucket Puppets Pack o' Fun and several coloring pages for Mayor Cranley to give to his young son.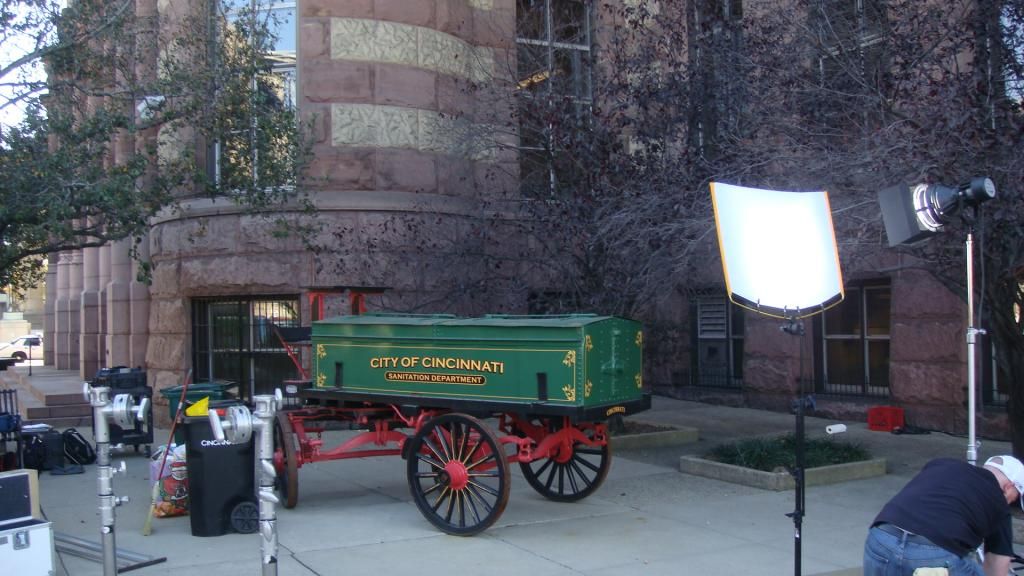 Our crew was very speedy in setting up the lighting and camera equipment, so that when Mayor Cranley arrived we could shoot his scenes lickity split!  We were shooting in front of an antique trash wagon that still has a plate on the front dated 1928!  It's still really sturdy, I even climbed up into the driver's bench with Cyril.
The message for this spot is to encourage viewers to keep Cincinnati green by recycling cans and paper whenever possible.  Cyril and his co-star John Ervin are off to meet the Mayor and find him "cleaning up City Hall".  I had a bit of a hard time hearing our directors Bobby Gayol and Paul Grundy call "Action!" a few times, due to all the traffic, church bells, buses, and fire engines.  Keep it down Cincinnati!  We're making television here!
Puppeteering from a sidewalk is hard.  Very hard.  In the photo to the right you can see my "work space" for the afternoon, nicely hidden from the camera's view behind several trash cans.
I was very fortunate that our producer Ann Newsom, from Cincinnati's Department of Public Services, had a spare blanket in her car. Thanks again Ann!
I did bring my trusty travel mug of chamomile tea and honey, which really did help my voice stay in shape on this Autumn afternoon.  Notice the clipboard that is holding my script?  That piece of particle board has been with me since my radio and zine days in the early 1990s!  I have lost track how many radio playlists, zine articles, and now puppetry scripts have been held into place on that clipboard.
With my solo scenes shot.  The word was given that we were ready to have Mayor John Cranley join us.  He was very friendly when I introduced him to his co-star Cyril the Sea Serpent, he even tweeted about us later that afternoon!  I had hoped to take a photo with the Mayor, but sadly time did not allow for that.  Cyril has able to shoot this picture with his tail as the crew and producers explained the script to the Mayor.  Many pedestrians passed us, wondering what was going on at City Hall.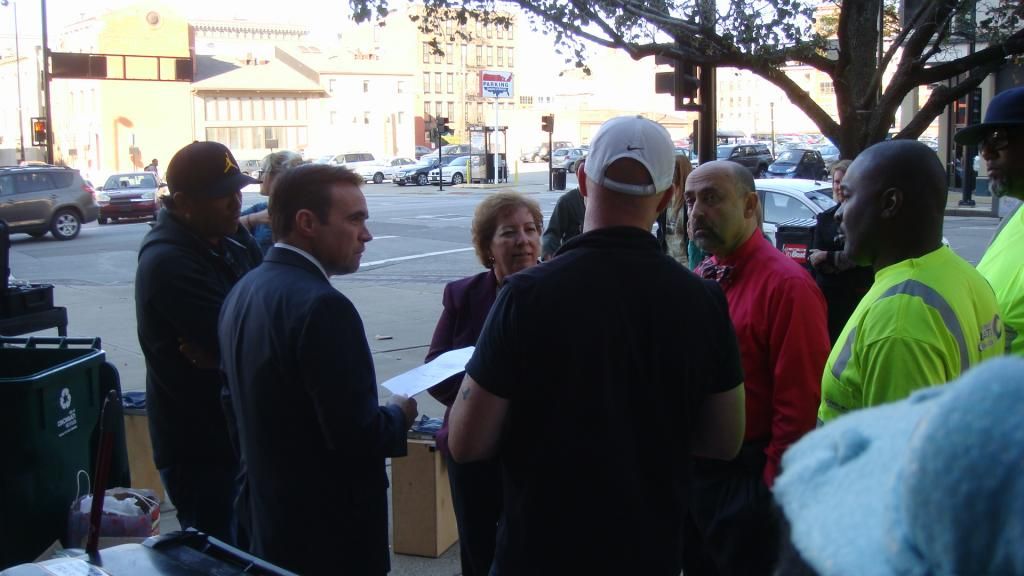 Mayor Cranley performed his scene with Cyril quickly and was off to another appointment.  Cyril got to say goodbye, and hopes to work at City Hall again.  Next on the shot sheet was Kitty Quo Quo Quo Qua's scene.  Keep in mind that Kitty is a giant intergalactic, transdimensional alien space cat.  She is so large that only one of her paws can enter our dimension.  Soupy Sales had giant dog paws on his show, I have a giant space cat paw in mine.  Did you know that Soupy's television career was started on WKRC-TV right here in Cincinnati?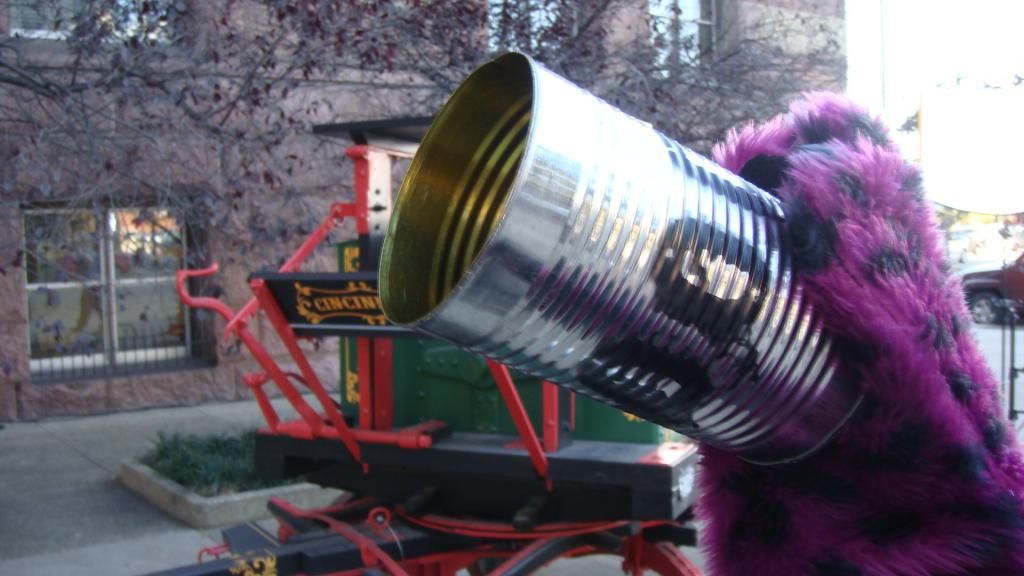 For her scene Kitty had to throw a tin can onto the sidewalk, which prompts  Mayor Cranley to scold her and explain that he all need to do our part and recycle.  I had to practice the can toss a few times to get the throw right for the camera.  After a few takes, success!  Maybe she should pitch for The Reds next Spring?
When we finished shooting Kitty's scene,  it was time to call it a day!  I was eager to get home and tell my family about puppeteering with Mayor Cranley.  My mother was visiting us from New England, and was very interested in hearing about the puppetry that I have been performing.  Once again, I had a very positive experience all around.  I was happy that the planets and our schedules aligned, allowing us an afternoon to shoot another TV spot with my puppet characters.