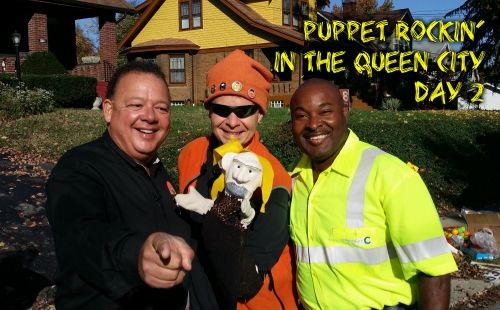 Puppet Rockin' in the Queen City Day 2
Friday, October 17 2014.  Our television production was delayed over a week due to the heavy rain that was falling on Cincinnati.  Eventually, the sun decided to come out again, and we were ready and waiting to make some more fun TV spots.  Our entire team was tired of the rain.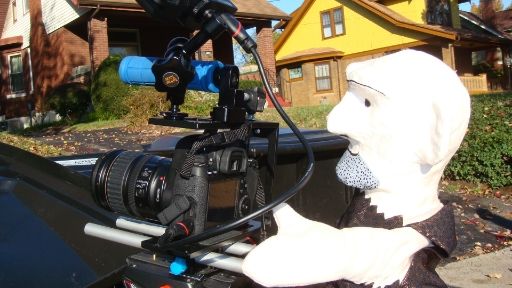 Our first location for second full day of shooting was in the Pleasant Ridge neighborhood of Cincinnati.  Our special guest star was Ed Grant of AllGood Home Improvements.  I must admit that I had no idea who our guest was, yet our crew was very excited that Ed was working with us.  I learned that he is the owner and TV spokesman for AllGood, and appears in quite a few TV ads for his business.  This was both his first time shooting on location, and performing with a caveman puppet!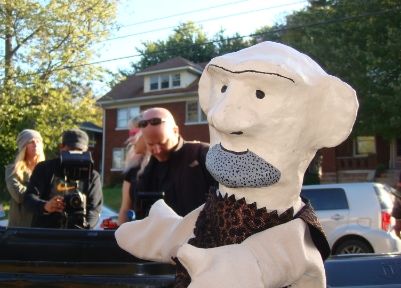 In this spot, Unka Unka is trying to hold an overloaded trash can's lid down, until it bursts and sends trash all over the sidewalk, and a banana peel onto his head.  Ed plays Unka's neighbor and informs him how to get a bigger trashcan to hold all his waste.
It was a very welcome relief not to have to puppeteer from inside a trash can again.  All of my scenes with Unka were performed by hiding myself behind a row of trash cans lined up on the sidewalk.  The "luxury" of climbing inside the can to launch the prop trash out of the can and onto the ground was given to Paul Grundy.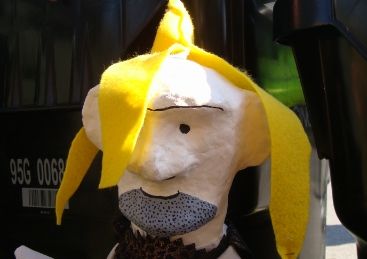 Puppeteering Unka is different from many of the other puppets in our cast, as he is a traditional hand puppet without a moving mouth.  His head rests on my index finger while my thumb and pinky on my left hand operate his arms.  Since I sculpted his head to fit my left hand, it is not too uncomfortable to perform him.  Unka Unka is a caveman in the most cartoony way, and his vocabulary is not very large.  The script used in this spot gave Unka more dialog than in our live puppet show.  I delivered his lines in "cave speak" with the appropriate ughs and grunts.  Since making this spot Unka has asked me to give him more stage time and lines.  Next thing you know he'll want his own dressing room and a oppurtunity to perform Shakespeare!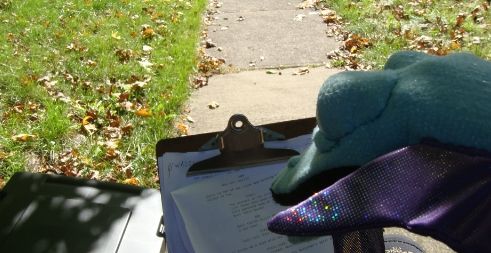 After Ed and Unka completed their scenes, it was time for Cyril and his co-star John Ervin to shoot their bits that will be edited in.  Cyril was pleased to work with John again and got a thrill delivering his lines from inside a city garbage truck.  When these scenes were completed we learned that the producers were treating the cast and crew to lunch at Molly Malone's Irish Pub!
After lunch, we headed to our second location of the day to shoot in the neighborhood of Westwood.  It was nice to learn that the father of our co-star Ann was friends with my departed, but never forgotten, friend Michael W. Riley.  That's the beauty of living in a smaller city, you eventually bump into nice people who know somebody that you know.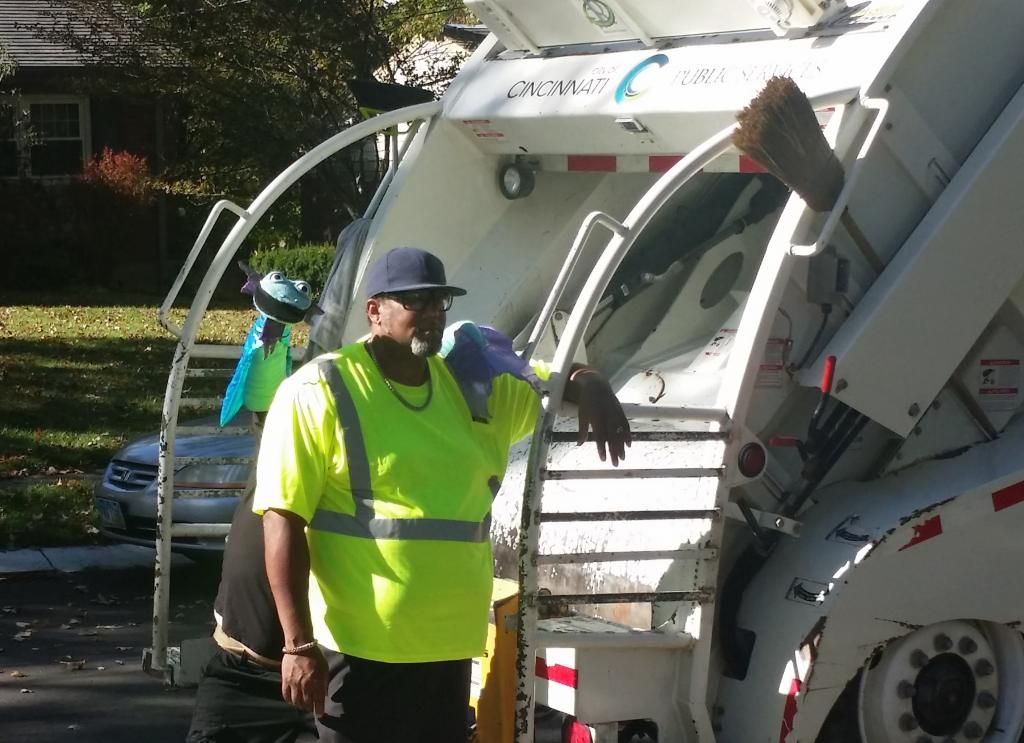 My second co-star for this spot was Marcus Potter.  It turns out that he is a singer too!  I enjoyed working with him, and chatting about how performers can use social media and websites to  promote themselves.  As you can see from the photo above Cyril (and his tail) had fun acting with Marcus too.
In this PSA (that's TV talk for Public Service Announcement) Cyril and Marcus see that Ann is not using approved trash cans when putting them out for pick-up.  Above is a photo of our crew setting up a shot.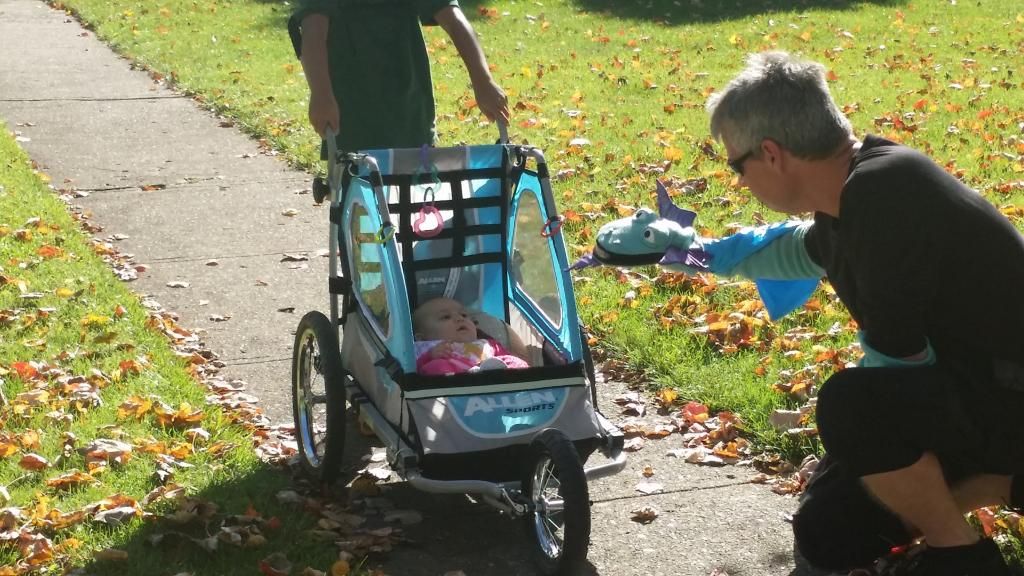 About halfway through this scene I noticed that we had a few young visitors on location!  Cyril urged me to bring him over and meet our young friends.  As it turns out they are the grandchildren of my co-star John Ervin, and very excited that their grandfather was working with puppets.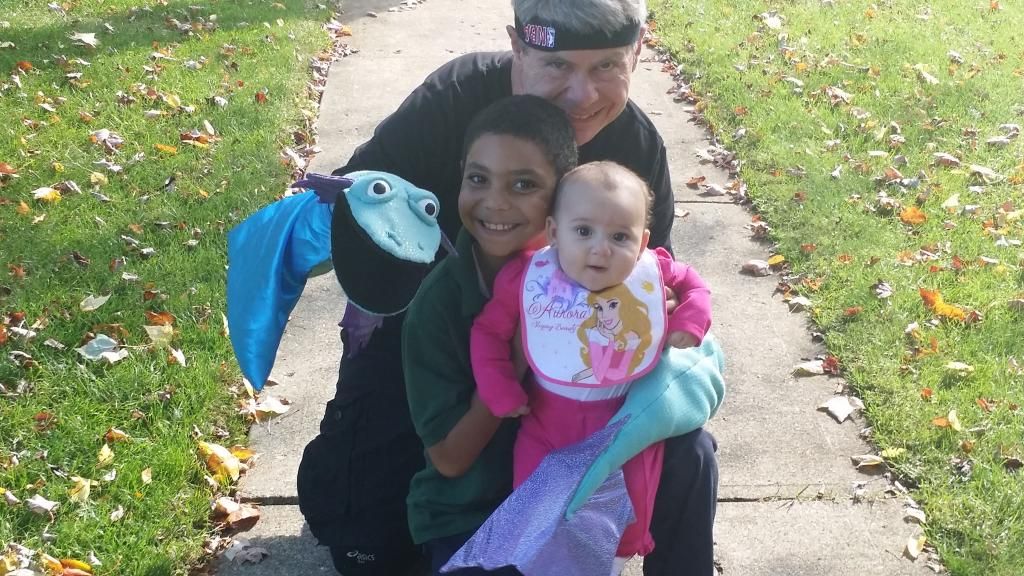 After warming up to us, Dante and Olivia agreed to have their photo taken with Cyril.  Dante told me that this was his sister's first time meeting a puppet.  As you can see from his wonderful smile he had a great time meeting us too.  Thanks for visiting us on location Dante and Olivia, we hope you'll come see our show!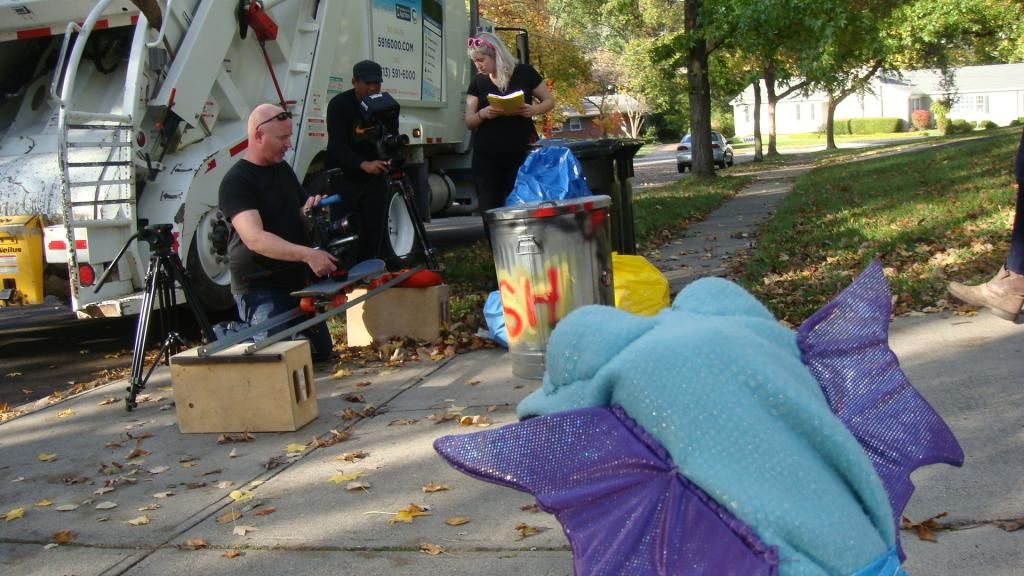 With the visit from our new young pals over, it was time to get back to work and get the remaining shots finished.  Luckily the wonderful weather stayed with us all afternoon.  Cyril was fascinated by all the video equipment and enjoyed watching our talented crew work their magic. They make the hard work look so easy.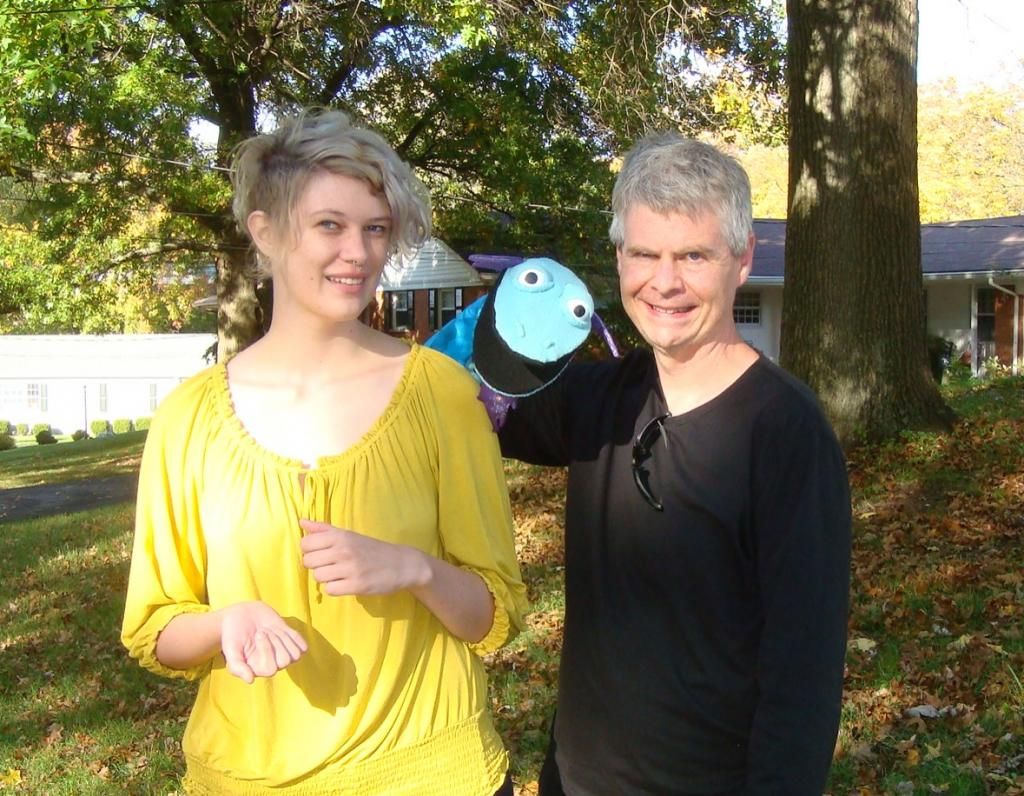 Then after a few takes with Cyril and Ann, we were finished with another very productive day of puppeteering for television.  The great weather certainly helped everyone shine.  I really enjoyed spending a few minutes Dante and Olivia and entertaining them with Cyril and Coleman.  The nine hours of hard work seemed to fly by, that's because we were all having fun.