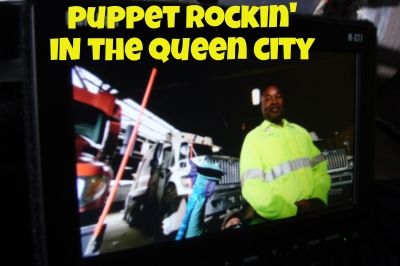 Puppet Rockin' In The Queen City
Day 1 – Hillsides and Trashcans
As I attempted to sleep on Wednesday night, I remembered of all of the people that have helped me reach this new point in following my childhood dream to be a puppeteer.  Certainly my parents were there from the start so long ago.  Thoughts of my father were racing about my brain, and how I wished he was here to enjoy my growing success as a puppeteer.  Then, I finally fell asleep.
Suddenly it was 5:45 on Thursday morning.  I needed to prepare for my day as the solo puppeteer for the Cincinnati Department of Public Services television spot -that's showbiz lingo!  I zipped up my hoodie, plugged in my earbuds, and hit the sidewalk for my morning walk, Led Zeppelin was my soundtrack.  With the "rock walk" and arm stretches complete, I had breakfast, kissed my family goodbye and drove to Cincinnati State College, who's video department are providing the crew and equipment for this shoot.
Our little caravan of vehicles included the production van, a college shuttle bus (posing as a Green Room/prop department), and a city garbage truck driven by one of my co-stars John Ervin.  In between scenes John and I chatted about the truck.  I know my seven year old son Tiernan would have loved to see his daddy squished into the cab to perform Cyril the Sea Serpent.  John told me that these rigs can get up to 65 mph, provided they are not hauling trash.
Our first location was on on Heekin Avenue, in the Mt. Lookout neighborhood of Cincinnati. In this PSA we are informing residents who live on steep hills that they can get an exemption form and leave their trash on the curb.   This was the most difficult scene to shoot since we were working on a set of very steep, and cold, concrete steps. If that wasn't hard enough, I had to puppeteer from inside a trash can, covered in make-believe trash!  It was not easy, yet we got the shots needed.    I won't give any more away, yet I will promise you this, it's VERY FUNNY!  Our director Zo Wesson was very encouraging and praised me for my performance multiple times.  I guess he knows that this puppet rocker ROCKS HARD!
After our lunch break, the cast and crew made their way to Cincinnati's Westwood neighborhood.  The video and lighting equipment was nearly set up when the sky above us began to darken.  Rain was determined to stop this from being shot.  No trouble, we still had a third location on the schedule, the city garbage truck garage!
For our final location we shot a few of Cyril's intros, welcoming the viewer, and explaining where he's going with his pal John.  This time we were protected from the rain, and I got to sit on an apple box!  Now that's luxury.
With several of our garage shots "in the can", the crew began to pack up all of their video and lighting equipment.  And I thought puppeteers had lots of gear!  These folks filled two vans with their gear.
What I really enjoy about this production is that it's cast and crew are all from Cincinnati.  Working with these fine folks was great.  Everyone gave it their all to make this production shine, even though the sun wasn't.