FUNday Monday # 7 -with less snow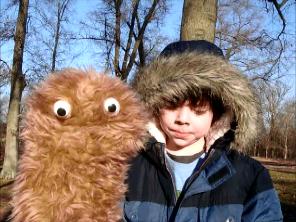 What a Winter it has been in Cincinnati!  Cold! Snow! Ice!  Good thing we make these little videos on sunny days when the weather is nicer.  This week we are back at the Mt. Airy Forest playground.  It's an odd name since there are NO mountains in Cincinnati!
Here's this week's silly joke:

Thanks to Tiernan for being this week's super special guest.  Did you catch a peek of Eleanor sneaking up on the guys at the end?  You must have eagle eyes.  Please share a silly joke with us, we love them!  Puppets ROCK!!!